WildlifeConservationist.com invites you to
Join the Adirondack Park's largest and most effective advocacy organization today!

THE ADIRONDACK COUNCIL
Defending the East's Last Great Wilderness

Help us ensure the ecological integrity and wild character of the Adirondack Park.

click here for their website



The Council partners with lodges, cultural centers, and summer camps to spread the word about Park preservation!

Rob Grant (Pres. )with Diane W. Fish (Director of Fund Development for the Adirondack Council)

With your membership you will receive:


• the State of the Park report, the latest information on what elected officials have done for the Park.

• Adirondack Council newsletters with the issues, people and trends in the Park; exclusive updates on Park-related issues.

• special activist alerts on breaking issues.

• an invitation to our Adirondack Membership Meeting and Dinner, an opportunity to meet other people who share your concerns and appreciation

of the Park.

• satisfaction in doing your part to make this earth a better place!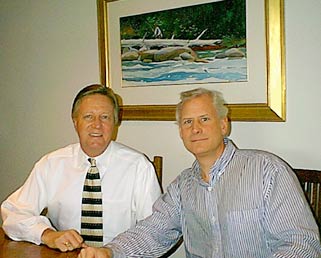 Paul Smith's College Pres. George Miller (left)
and Rob Grant Pres.
Paul Smith's College Receives
Internet Gift From Rob Grant


PAUL SMITHS - Paul Smith's College announced today that they have received a significant gift in the form of educational domain names designed to drive Internet traffic to their PaulSmiths.edu web site.
The gift was made by Rob Grant of Rob Grant & Associates in Saranac Lake.
Mr. Grant has worked closely with the college since 1999 exploring and developing a unique online network of educational web sites through his internet consulting firm Adirondacks.com
"These Internet domains are extremely powerful and very intuitive," said Mr. Grant. "They represent important generic industry brands in various academic fields that are the focus of the Paul Smiths curriculum." These domain names include the following:
www.LandManagement.com, www.EnvironmentalStudies.com, www.EnvironmentalSchools.com
According to a recent survey conducted by the nations largest educational directory "Peterson's Educational Guide", over 35% of all U.S. students actively used the Internet to search for schools and apply online. Consulting firm CollegeNet estimates that over 50% of all international students search for schools and apply directly online. As the Internet has continued to grow worldwide, online admissions has become an essential tool for any school hoping to compete globally for prospective applicants. For an organization like Paul Smiths college, controlling such important educational domains means that Paul Smiths now becomes the electronic destination for any student anywhere in the world who conducts a search by typing in any one of these URL's.
As Paul Smiths continues to grow and expand from a 2-year college to a 4-year institution, its goal is to raise enrollment from 800 students currently to over 1,100 students by the year 2005. In order to accomplish such an ambitious task the internet will play an increasingly pivotal role as Paul Smiths competes with other academic institutions from around the globe to attract students to the Adirondacks.
Commenting on the recent gift to the college, Paul Smith president George Miller noted that "as the college's web presence continues to evolve, the addition of these valuable domains will enhance that presence in many significant ways. This gift will be used to direct prospective students and other interested parties to the colleges web site, thereby helping to increase enrollment and build awareness of our institution. Such a gift is deeply appreciated as we continue to seek better ways to serve our students as well as the greater Adirondack community." Mr. Miller also thanked Rob Grant for "his continuing support of our work at PSC and in making a difference in the future of Paul Smiths College".
Click here for The Paul Smiths College Website


Adirondacks.com and the Adirondack Park Visitor Interpretive Centers announce new internet partnership designed to showcase the visitor centers in Paul Smiths and Newcomb.

Adirondack Park
Visitor Interpretive Centers



The New York State Adirondack Park Agency operates the Visitor Interpretive Centers in Paul Smiths and Newcomb.Open year-round, the facilities serve the 6 million-acre Park as environmental education and traveler orientation centers.


The Paul Smiths and Newcomb centers were opened in 1989 and 1990,
respectively, and have served more than a million people.
Interpretive Trails
Both facilities offer miles of scenic, surfaced trails that feature signage explaining the local ecology. Winter in Paul Smiths sees the system adapted for cross-country skiing, while the Newcomb Center loans snowshoes to winter visitors who wish to explore trails there.
Exhibits
Indoor exhibits on natural history are complemented by regular showings of
multi-image presentations on the park. Youngsters will find "touch tables,"
games and puzzles to spark their interest in the regions's animals, insects and plants.
Butterfly House
The country's first Native Species Butterfly House reopens every June at the
VIC at Paul Smiths. Observe butterflies in all stages of development as well as
their larval food and nectar plants from 10 am to 4 pm through Labor Day.
Public Programs
From lectures on bear behavior, orienteering classes, maple sugaring outings,
and packbasket weaving workshops, the Interpretive Centers offer more than
150 public programs annually, many of them free. Summers at the Centers
feature regularly scheduled interpretive trail walks, the Junior Naturalists series,
astronomy classes, evening explorations at Newcomb and live birds of prey
sessions at Paul Smiths and Newcomb.
Environmental Education
Environmental education is a priority at the Interpretive Centers.
With the support of a private, non-profit organization called the
Adirondack Park Institute Inc., the two facilities sponsor the
Hudson Headwaters River Watch, a wide variety of on-site and
off-site school programs and Stalking Science Teacher Training Workshops.
Classes from throughout the northeast have participated in the residential
education program titled "Life in the Woods," co-sponsored by the
Newcomb Center, the State College of Environmental Science and
Forestry and the Adirondack Museum.
Visitor Information
Friendly staff and volunteers knowledgeable about the Adirondack Park
are eager to help visitors find places to stay, eat and enjoy all the Park
has to offer ó recreational activities such as skiing, canoeing and hiking,
museums and other attractions, concerts and plays and annual events
such as the Saranac Lake Winter Carnival.
Both centers are open daily from 9 am to 5 pm year round,
except Thanksgiving and Christmas. Admission is free.
The center in Paul Smiths is on Route 30, 12 miles north
of Saranac Lake, phone: 518-327-3000; the center in
Newcomb is located on Route 28N, 14 miles east
of Long Lake, phone: 518-582-2000.

To visit the Paul Smiths and Newcomb Visitor Interpretive Center's website: click here